Land Use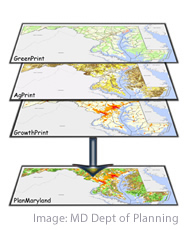 "Land" is where "soil" and "people" meet; and there are often competing demands for land, for example, agriculture, forestry, rangeland, conservation, settlement, and recreation. Demographic and socioeconomic changes, the increasing needs for food and housing and changes in national policies are resulting in extensive and intensive land use changes.  Land use change has implications for biodiversity, water quality, air quality and human livelihoods.  Further, while much land use change takes place locally, its implications can be regional and global, for example land use change plays an important role in global biogeochemical cycling. For all these reasons, the study of land use is becoming increasingly important and requires a multidisciplinary approach. This concentration provides students with a background in the ecological, cultural, regional, and international dimensions of land use, while developing broad technical skills in Geographic Information Science and remote sensing. As a result, this concentration prepares students for positions in land use planning, sustainable land development, and land conservation. 
This concentration is sponsored by the Department of Geographical Sciences within the College of Behavioral and Social Sciences.
Advising & Registration
Meet with Mr. Byron Marroquin to have your advising block removed. He will work with you during scheduling and registration.  He will make sure you stay on track to complete your ENSP major requirements. You'll need to meet with him each semester before you will be able to register for courses so he can remove your mandatory advising block.  Byron can also help with questions about administrative issues such as registration and general university policies and resources.  Begin this process at least 2 weeks early to be sure you can register on time. 
Byron Marroquin

1149a LeFrak Hall
301.405.8057

bmarroqu@umd.edu