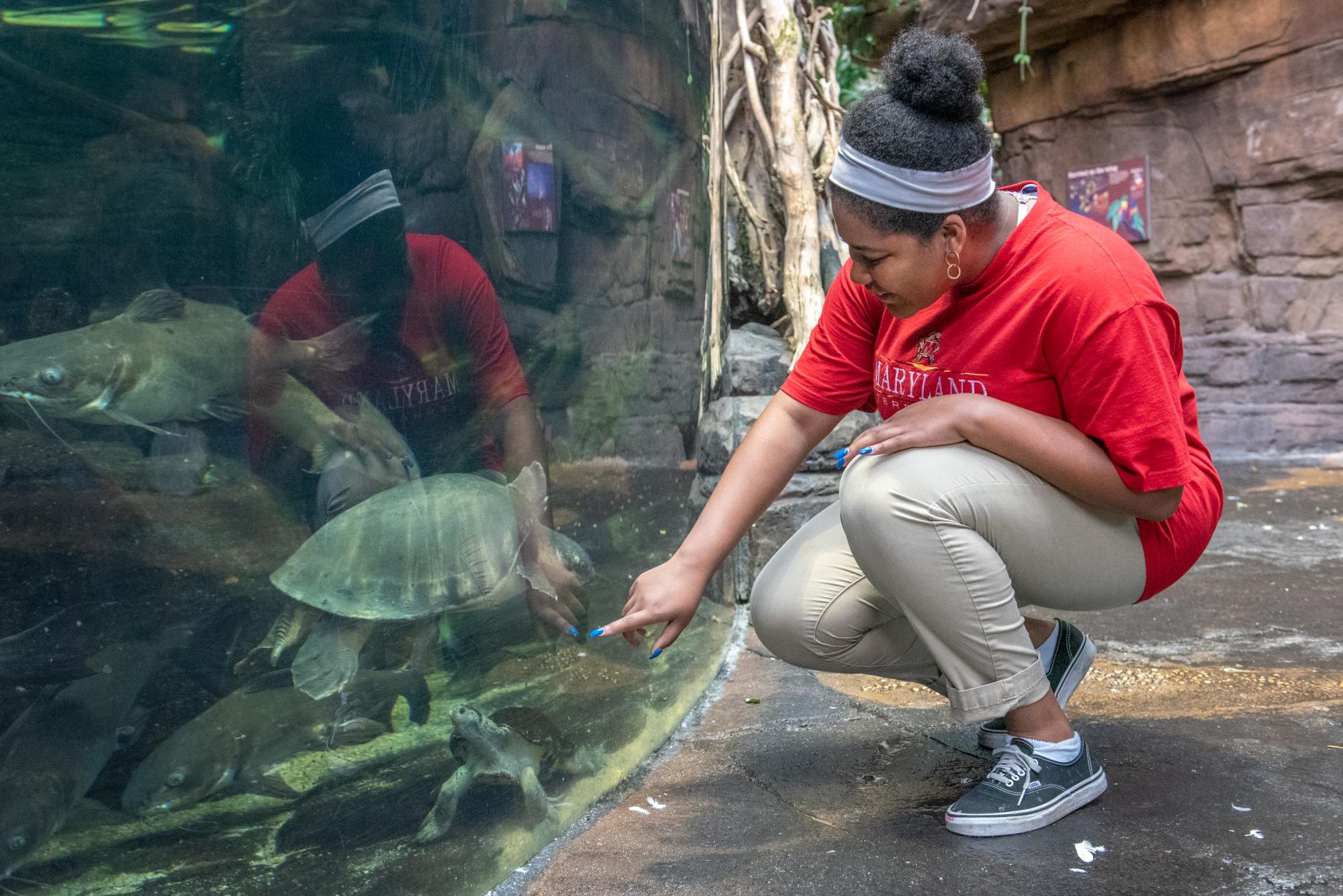 Departmental Honors gives you an opportunity to conduct your own (original) research, collect and analyze data, and discuss and write about it with like-minded others. Successful honors students are inquisitive, self-motivated, and good time-managers -- the kind of students with whom most faculty members enjoy working! Additionally, the coursework normally "counts" towards requirements in your concentration, so shouldn't affect your graduation.
The goal of ENSP Honors is to encourage and recognize superior scholarship by providing opportunities for students to engage in independent study and research.
The research project will be conducted under the supervision of a faculty mentor, often within the student's area of concentration, and will result in an Honors thesis.
What does the program entail?
9 credits of coursework, which can include up to two Honors Option courses, or 600-level graduate courses.  With permission of the student's concentration advisor, these courses can also double-count as ENSP Restricted Electives

Honors Option Contract - required for students wishing to develop an Honors option of an already existing course

6 credits of self-conducted research under the supervision of a faculty member (ENSP499)
Oral Defense of completed research/thesis
ENSP Honors Program Guide - includes admission requirements and program details
ENSP Honors - "Nuts & Bolts" (general overview)
ADMISSION 
Getting Started:  Students are encouraged to start considering topics during the spring semester of the sophomore year, and no later than the fall semester of the junior year.  It is a 3-semester commitment.
Requirements: Junior status (at least 45 credits earned, but no later than 75 credits); GPA of 3.25 or higher and a 3.5 or higher in all ENSP major requirements is required
Applying:  Students must have identified a thesis advisor (typically a faculty member) before an application will be reviewed.  All completed applications must be submitted to the ENSP Director by November 1 or April 1
The Application Packet will include:  an official UMD transcript; a personal statement of interest in and a rational for the proposed research topic; and a letter of support from the thesis advisor
Helpful resources:
UMD Honors Program  - includes contract for Honors Option courses
Examples of Past ENSP Honors Theses - a sampling of research topics from previous ENSP Honors students
Writing an Honors Thesis - provides a great, overall introduction and suggestions for "keeping it do-able." (The Writing Center, UNC - Chapel Hill).
Zotero - a FREE research tool that collects, manages, and cites research sources; it's easy to use and lives in your Firefox browser - Univ of Arkansas
APA Style Guide - Purdue University OWL (Online Writing lab)
Social Science Research - a guide to the various components in a social science research paper. (University of Southern California).
Scientific Writing - includes samples of formats required by scientific journals. (Biology Department, Bates College).
MLA Style Guide - Purdue University OWL (Online Writing lab)
Basic Legal Citation (Cornell University Law School Library)
The Defense - practical advice for a successful thesis defense (Wheaton College)
Contact Ms. Angela Mazur-Gray if you want to learn more!